The North Dakota Medical Association provides physicians with opportunities for personal and professional development including NDMA Council leadership positions such as the President, Vice President, Secretary-Treasurer, Speaker of the House, AMA Delegate, and Alternate AMA Delegate. There are opportunities for seeking leadership positions in your District Medical Society, including service as a councillor representing your District on the NDMA Council or as a Delegate to the NDMA House of Delegates.
There are also leadership opportunities by serving on a NDMA commission or the political action committee. Other opportunities include assisting NDMA lobbyists on legislative issues, or representing NDMA on one of the various physician positions with state agencies, boards, committees, and other organizations.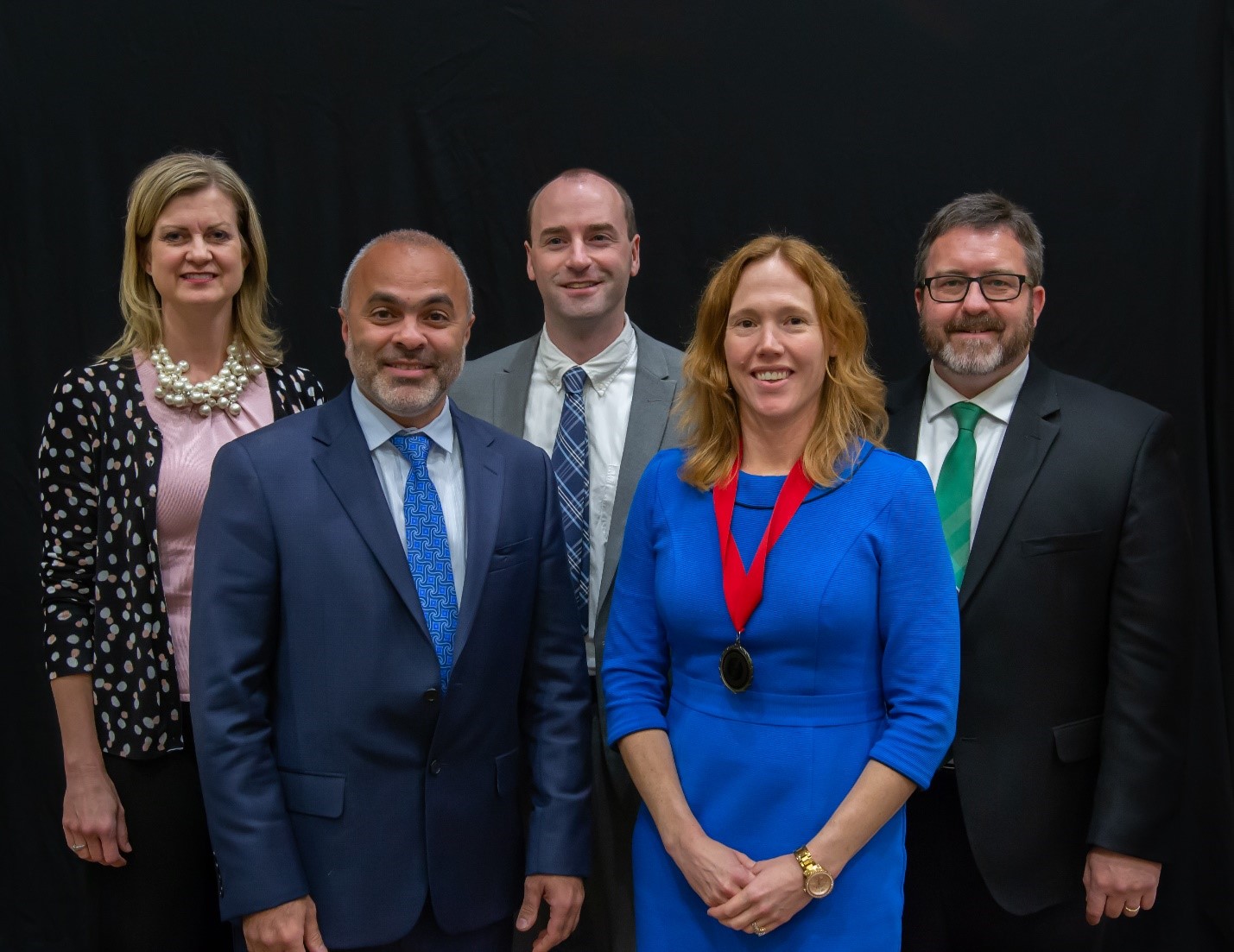 Officers shown left to right – Dr. Stephanie Dahl, Policy Forum Chair; Dr. Fadel Nammour, Past President; Dr. Joshua Ranum, Vice President; Dr. Misty Anderson, President; and Dr. David Schmitz, Secretary Treasurer.
Misty K. Anderson, DO

Sanford Clinic Valley City

Joshua C. Ranum, MD

Vice President and Council Chair

West River Health Services

1000 Highway 12
Hettinger, ND 58639
701-567-4561

David F. Schmitz, MD
Secretary Treasurer

UND School of Medicine & Health Sciences

Stephanie K. Dahl, MD
Speaker of the House
Sanford Reproductive Medicine Clinic

1111 Harwood Drive S
Fargo, ND 58104
701-567-4561

Fadel E. Nammour, MD

Dakota Gastroenterology Clinie

Shari L. Orser, MD

Sanford Obstetrics and Gynecology

UND School of Medicine & Health Sciences SW Campus
Councillors
First District

Stephanie K. Dahl, MD

Sanford Reproductive
Medicine Institute

Osama B. Naseer, MD

Neville M. Alberto, MD

Second District

Third District

Randolph E. Szlabick, MD

UND SMHS Dept of Surgery

501 N Columbia Rd Stop 9037
Rm 5107

Grand Forks, ND 58202-9037

Kevin Mork, MD

Fourth District

Fifth District

Scott E. Knutson, MD

Trinity Health Center-South Ridge

Misty K. Anderson, DO

Sanford Clinic Valley City

Valley City, ND 58072-3198

Sixth District

Joan M. Connell, MD

CHI St. Alexius Specialty Clinic

Todd W. Schaffer, MD

Sanford North Walk-in Clinic

Seventh District

Eighth District

Sarah L. Schatz, MD

Joseph E. Adducci, MD

Retired

Ninth District

Tenth District

Dennis E. Wolf, MD

Retired

Timothy J. Luithle, MD

Eleventh District

Kent R. Hoerauf, MD

West River Health Clinics
Sarah L. Schatz, MD

Chair-Commission on Legislation

904 5th Ave NE

Jamestown, ND 58401-3437

701-253-4000

Shari L. Orser, MD

Chair-Commission on Medical Services

Sanford Obstetrics and Gynecology

Chair-Commission on Ethics

Parag Kumar, MD

Chair-Comission on Socio-Economics

Sanford Children's Castle of Care

Dinesh M. Bande , MD

Chair-Commission on Medical Education

Sanford Medical Center

801 Broadway North

Fargo, ND

701-234-2731

Thomas I. Strinden, MD

Chair-NDMA PAC