QUICK LINKS
Physician Community & Professional Services Award
The 2019 Annual Meeting held at West Fargo was met with remarkable success. The event brought together physicians and leaders from across the state to share a wealth of information covering many hot topics including an update on physician leadership and shaping the future of medicine by Dr. Barbara McAneny, the immediate past president of the American Medical Association.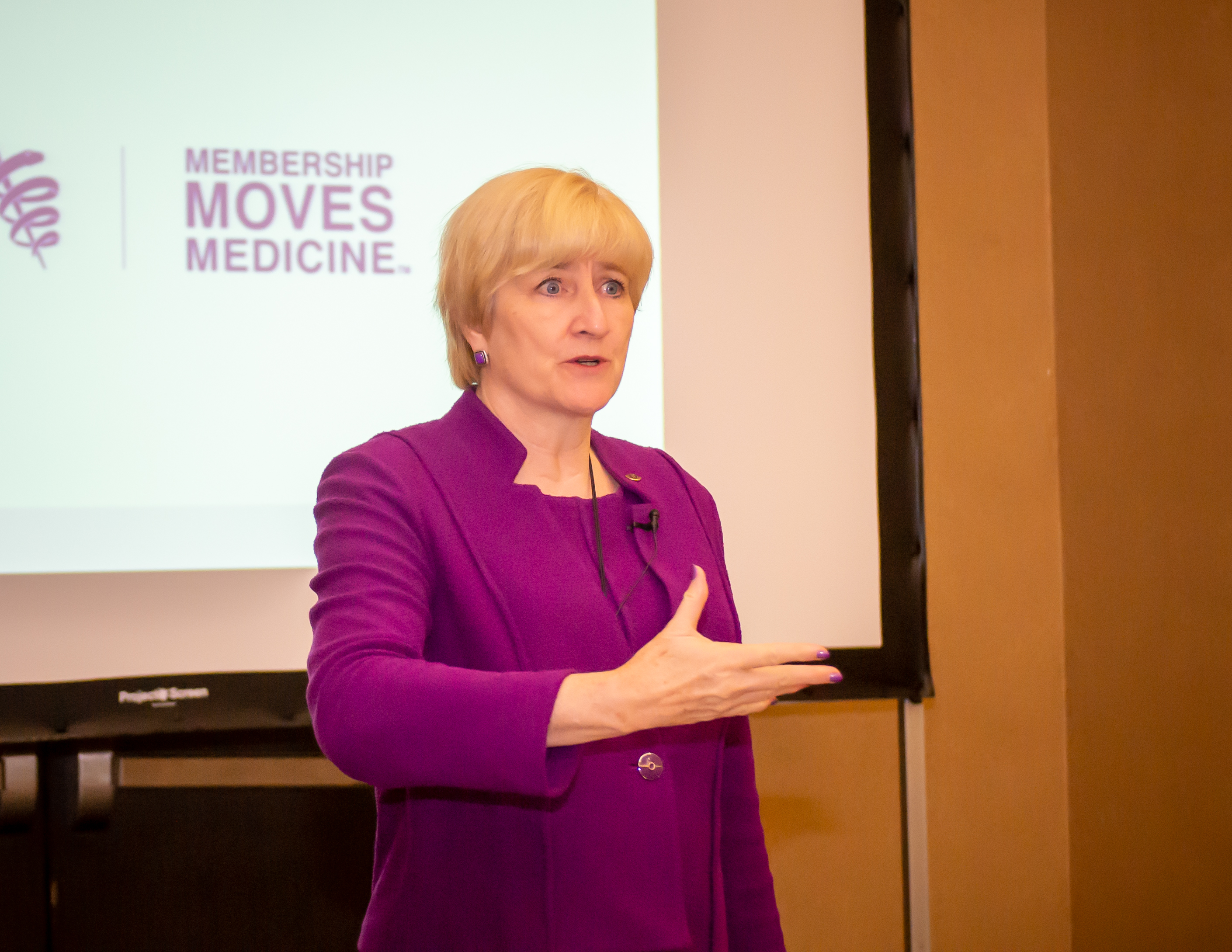 ---
NDMA Advocacy
Advocacy is a primary role of the North Dakota Medical Association - in both the public and private sectors. One way to have our voices heard is to participate in NDMA's policy forum discussions.
Policy issues are being presented by Dr. Mike Booth and Dr. Joan Connell
During this event, NDMA held its first ever Policy Forum. The forum is strategically designed to increase participation from members on critical policy issues that impact physicians and the care of patients.

Prior to the Policy Forum, members were invited to submit policy issues for review. The following issues were discussed and will be brought to the December 3rd NDMA Council meeting to determine if the issues will be either adopted, rejected or referred for study or implementation:

Medicaid Interpreters – support the adoption of a policy statement supporting Medicaid reimbursement for interpreter services, and then pursue policy change at ND Medicaid/ND Human Services.
Child Immunization – support a policy position opposing non-medical exemptions.
Vaping – adopt a policy supporting FDA regulating e-cigarettes as tobacco and removing all unregulated and unapproved products from the market; support banning flavors and marketing practices that enhance the appeal of e-cigarette products to youth.
Transparency in Prescription Drug Pricing, Rebates and Discounts – support efforts to publicly disclose any and all discount arrangements received by government agencies and pharmacy benefit managers in the purchase of prescription medications from drug manufacturers, wholesalers and their intermediaries.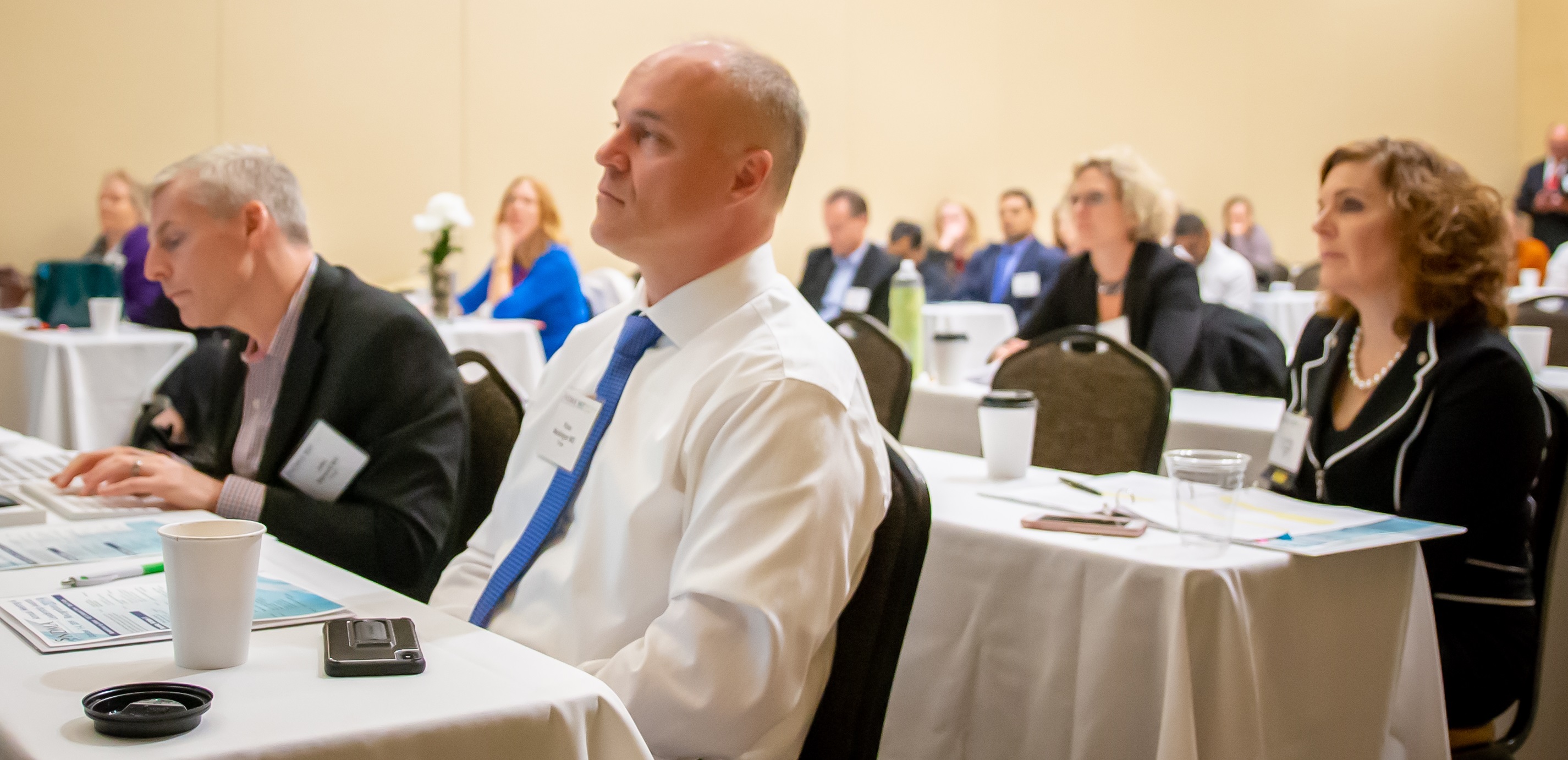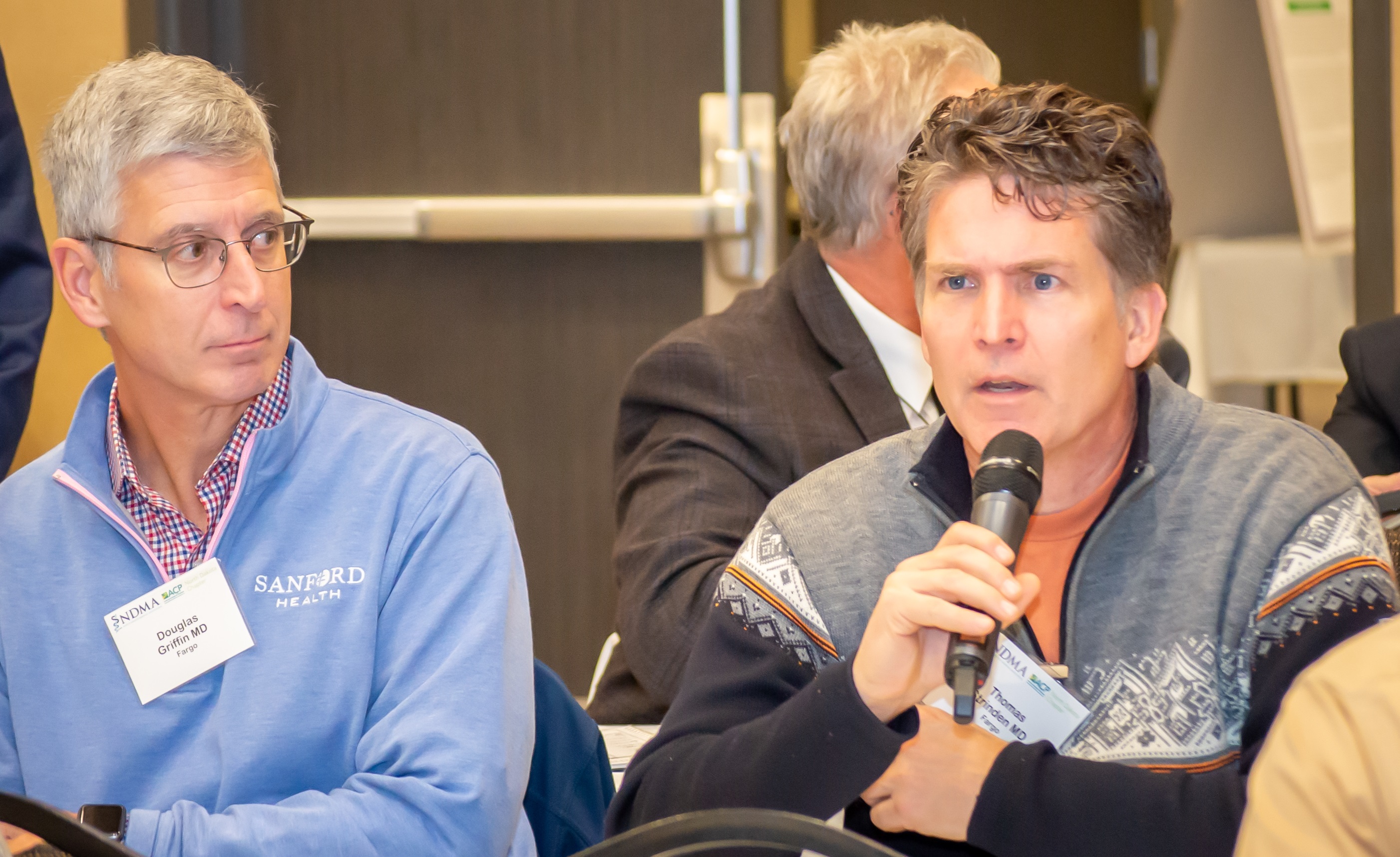 Another first for 2019 was the online election of the NDMA officers and American Medical Association Delegates. In prior years, elections were held in person during the annual meeting. NDMA is pleased to announce the following elected officers: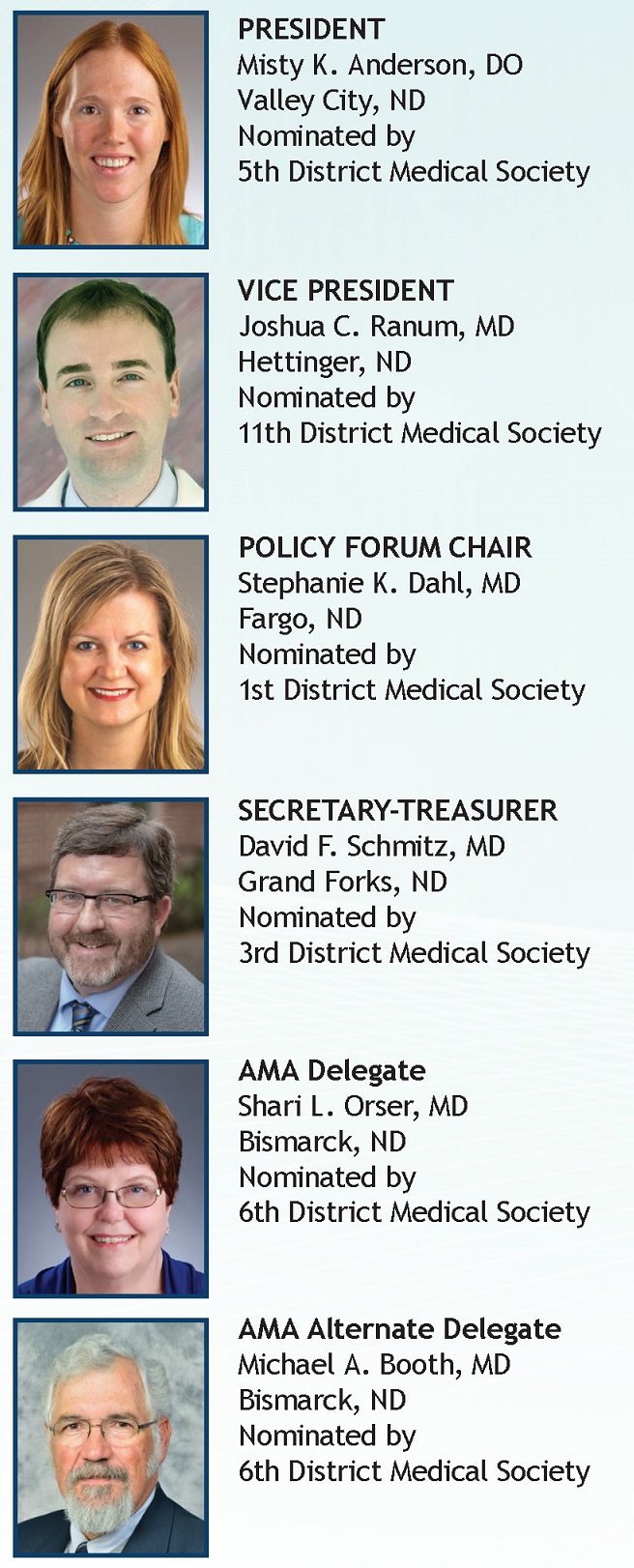 ---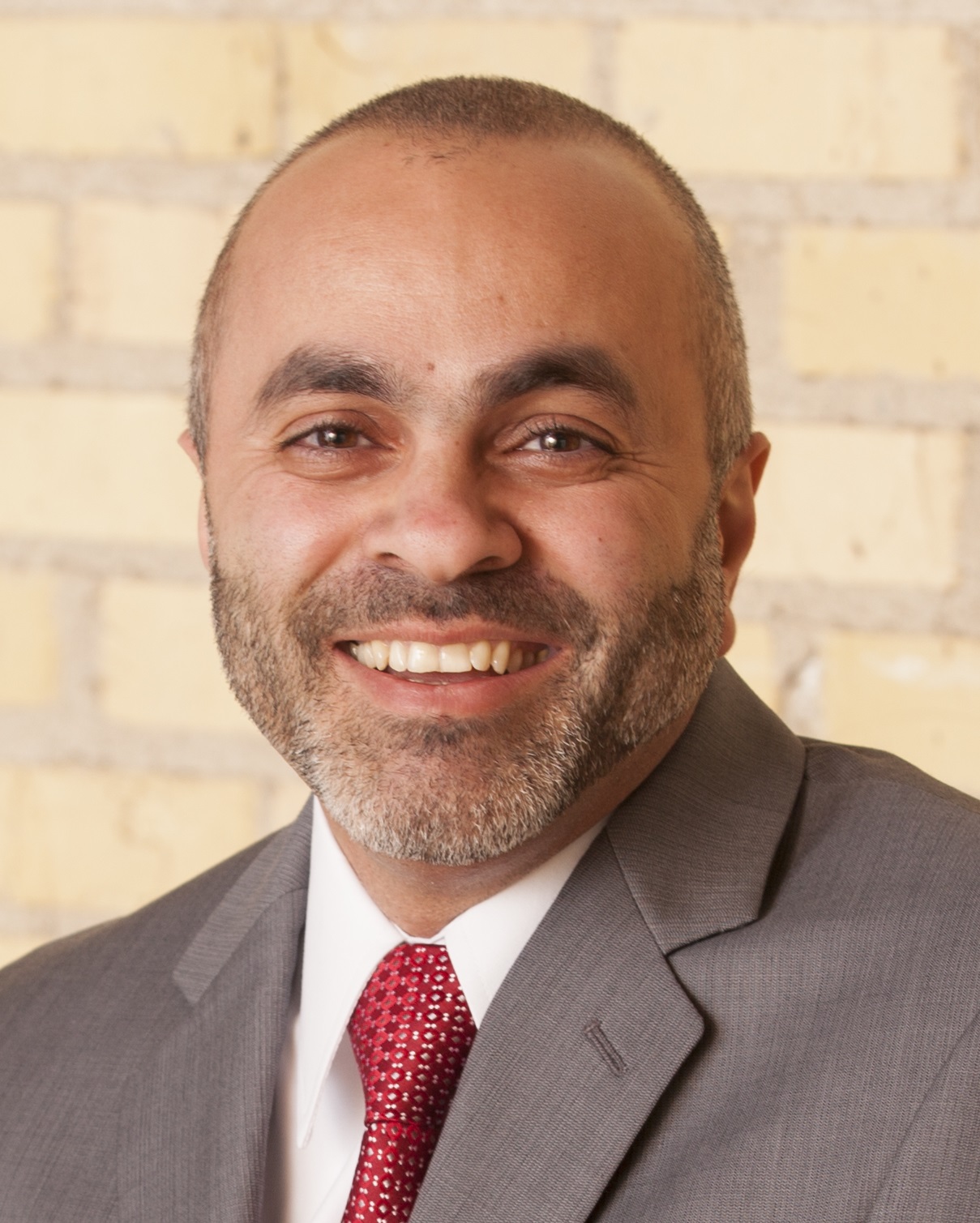 A huge shout out goes to Dr. Fadel Nammour for his service to NDMA and serving as president from 2017 to 2019. Your leadership is much appreciated.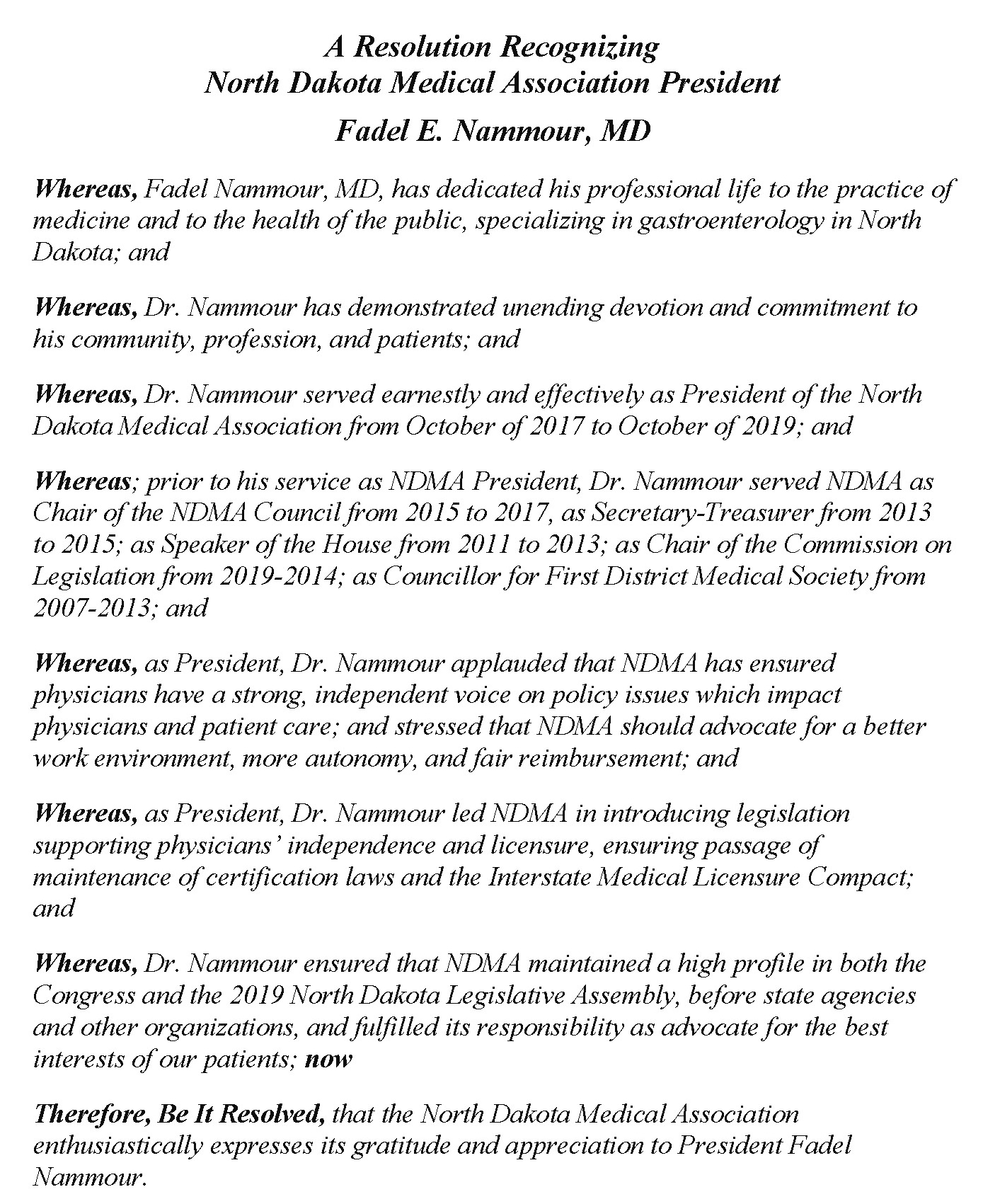 ---
NDMA Leadership Recognition Awards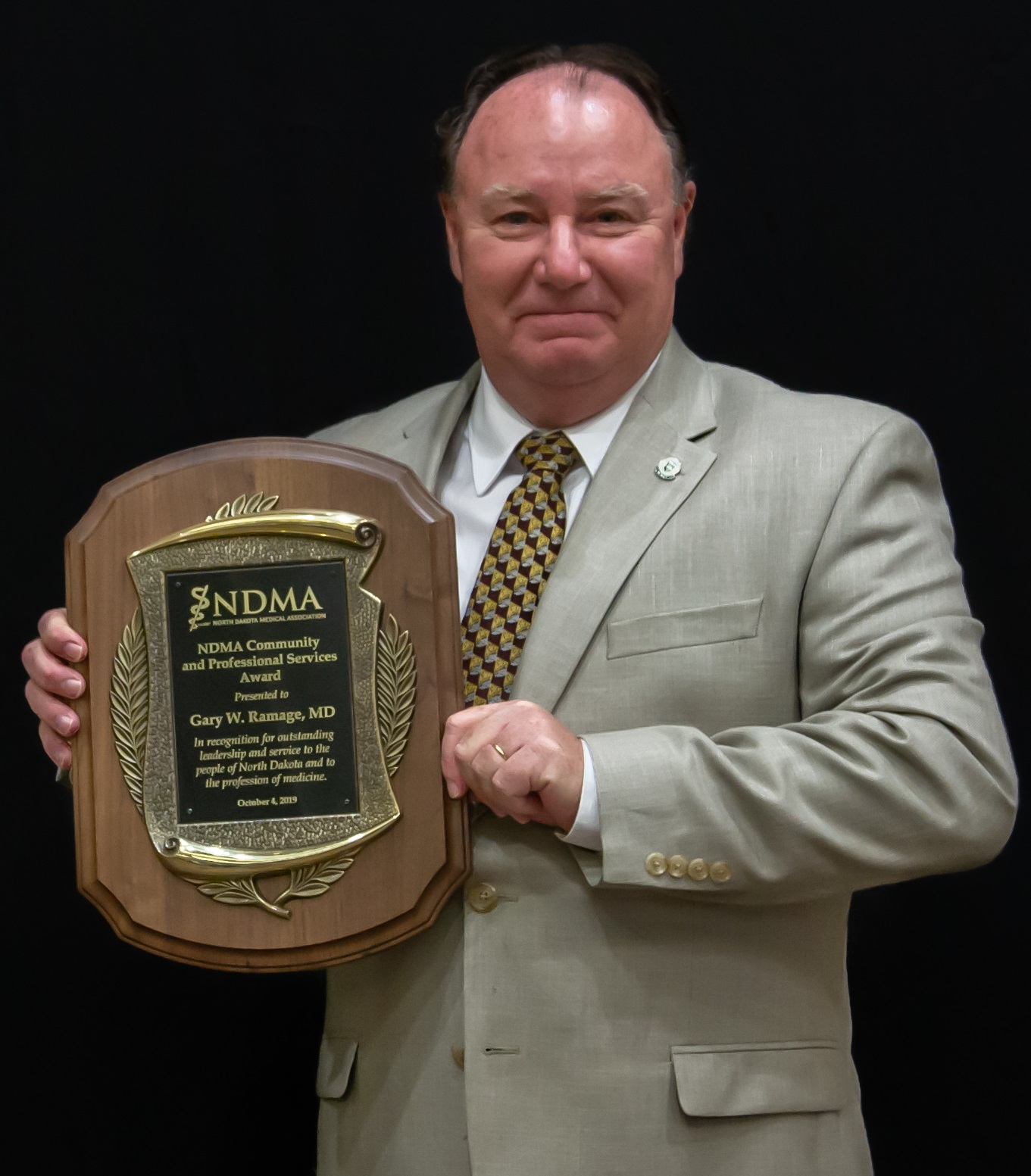 This award is recognized as North Dakota's most prestigious physician award and since its inception in 1977, has been awarded to forty-three distinguished physicians across the state.

Dr. Gary Ramage, a physician with McKenzie County Health Care Systems in Watford City, is the 2019 recipient of this award. Dr. Ramage stands as a premiere rural physician who has pushed the development of rural and community medicine over his last 23 years of practice in rural western North Dakota. Deeply respected by his patients and admired by his colleagues, Dr. Ramage is a true leader in both his workplace and community.
Learn more about past Physician Community & Professional Services Award Winners here.

The North Dakota Medical Association created the Friend of Medicine Award in 1999 to formally acknowledge non-physician citizens of our state who have distinguished themselves by serving as effective advocates for health care, patient services, or the profession of medicine in the state of North Dakota.

Chosen by the NDMA Executive Committee, the 2019 Friend of Medicine Award was given to Jeana Peinovich for her contributions to outstanding service to North Dakota's most-needed families in a medical crisis.

As the director of Lend A Hand Up since it began in 2008, Jeana has been responsible for developing, nurturing and expanding its resources to increase help for families burdened by substantial expenses due to illness or injury. Through Lend a Hand Up, she has supported more than 500 fundraisers to help families and helped raise $17 million.
Learn more about past Friend of Medicine Award Winners here.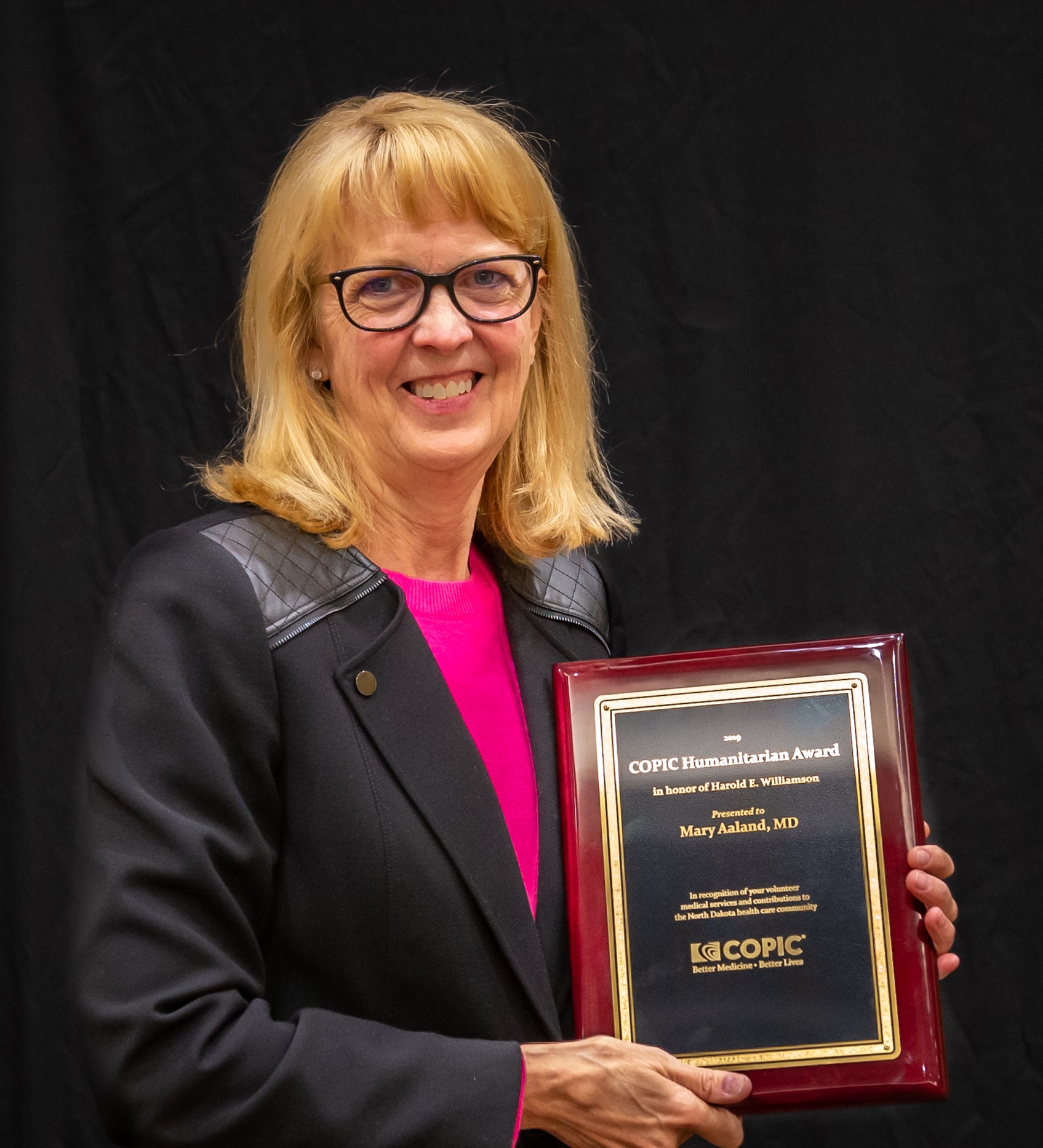 A new award established this year is the COPIC Humanitarian Award. This award honors a physician for volunteer medical services and contributions to the community by recognizing physicians who volunteer outside the spectrum of their day-to-day lives.

The award provides a $10,000 grant from the COPIC Medical Foundation to a health-related nonprofit organization of the recipient's choosing.

This first-time award was presented to Dr. Mary Aaland.

Driven by passion to improve healthcare access in rural communities, Mary Aaland, MD, FACS, associate professor of Surgery, director of Rural Surgery, and director of Clinical Research at the UND School of Medicine & Health Sciences, has focused her mission on bringing the American College of Surgeons (ACS) Stop the Bleed training program to rural North Dakota. Dr. Aaland has provided training in many communities throughout North Dakota with a goal to train 1,000 people each year.
NDMA recognizes physicians who have achieved at least 40 years of service to the medical community upon graduation from medical school (1979). Twenty-three physicians were recognized with a Forty Year Certificate.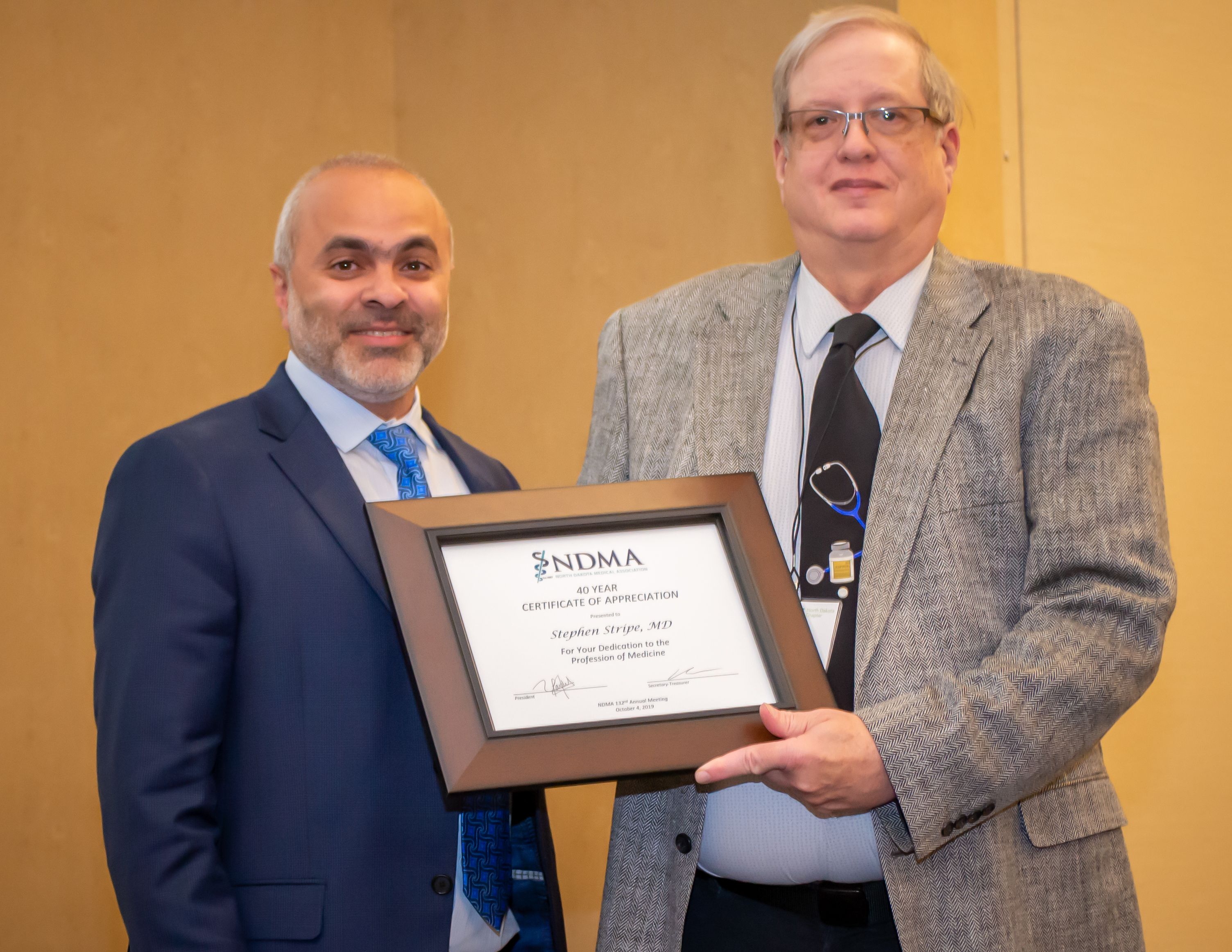 Dr. Stephen Stripe, a family medicine doctor from Minot, participated in the Annual Meeting and was presented his certificate by NDMA president Fadel Nammour.
Other recipients are as follows:
Gregory Bjerke MD, Fargo

David Clutter MD, Fargo

Mark Erickstad MD, Bismarck

Mark Fisher MD, Fargo

Peter Funk MD, Grand Forks

Joel Haugen MD, Fargo

Thomas Herzog MD, Fargo

Richard Howden MD, Fargo

Thomas Hutchens MD, Bismarck

Gaylord Kavlie MD, Bismarck

Rhonda Ketterling MD, Fargo

Jau-Shin Lou MD, Fargo

Madeline Luke MD, Valley City

Steven Maier MD, Jamestown

Franklin McCoy Jr. MD, Williston

Noren Meland MD, Grand Forks

Stephen Nelson MD, Fargo

Charles Nyhus MD, Harvey

Manuel Otero Cagide MD, Fargo

Dennis Reinke MD, Wichita Falls TX

Jerry Rogers MD, Moorhead MN

Peggy Sheldon MD, Fargo

Stephen Stripe MD, Minot

Congratulations to Leann Benson on her tenure recognition award achievement! This marks a special occasion for NDMA since it is a testimony of her loyalty to NDMA over the years. Leann, you are a valued member of our team and your continued contributions are vital for NDMA to continue to be successful. All of our organizational achievements are made possible because of your efforts.
Congratulations to all!

Thank you to all who participated in the Thursday night social prior to the 2019 NDMA Annual Meeting. The event, hosted by the First District Medical Society, was a big hit.
A huge THANK YOU to First District NDMA Medical Society and First District President Dr. Ross Meidinger for making this event a success.