COVID-19 UPDATES
NDMA is collaborating closely with the ND Dept. of Health, ND Hospital Association and other partners to ensure that the physician community of North Dakota is well informed and has the resources to provide quality care to patients during the developing COVID-19 outbreak.
NDMA will continue to keep the physician community informed on efforts to prevent the spread of the virus.
---

September 23, 2020
State Health Officer Mariani Amends Close Contacts Order
Interim State Health Officer Dr. Paul Mariani today amended a state-wide order expanding the quarantine order to all close contacts. This follows the Centers for Disease Control and Prevention (CDC) guidance. The North Dakota Department of Health has always recommended close contacts quarantine to reduce the spread of COVID-19, but previously the order referred only to household contacts.

"Whenever possible, all close contacts of individuals infected with COVID-19 should stay home for 14 days past the last day they were in contact with the person who tested positive," said Mariani. "Individuals who are named as close contacts and comply with their quarantine are actively protecting older adults in their community. These are our parents and grandparents. Quarantine is not convenient, but it is necessary."

The order continues to allow essential workforce exemptions for individuals who are close contacts of people testing positive for COVID-19. Exempt individuals include essential critical infrastructure workers as defined by the United States Department of Homeland Security.

For the most updated and timely information and updates related to COVID-19, visit the NDDoH website at www.health.nd.gov/coronavirus.
---
September 23, 2020
Taking Further Action to Address COVID-19 Cases at Long-term Care Centers
The North Dakota Department of Health (NDDoH) is adjusting COVID-19 testing and contract tracing strategies to address a recent uptick in confirmed coronavirus cases among residents and staff at long-term care facilities.
The State Lab is using the state's Vulnerable Population Protection Plan (VP3) team to assist in strategic adjustments, including:
Testing of long-term care residents and staff has been prioritized over all other testing, and every effort will be made to return results from long-term care tests within 24 hours of testing to allow for immediate isolation and cohorting, or grouping together, of positive residents and staff and quarantine of close contacts.
The NDDoH will begin to implement a plan to use emergency medical technicians (EMTs) and others to conduct test swabbing and is prioritizing approximately 200 nurses from the NDDoH's Department Operations Center to provide staff coverage as needed in long-term care facilities and other congregate settings.
The federal government is providing the state with Abbott BinaxNOW point-of-care testing that can be used at long-term care facilities that will assist facilities when residents and health care workers present with symptoms.
---
June 11, 2020
NDMA Signs Letter Addressing Congress to Support Liability Protections for Physicians
NDMA, along with over 90 other supporting organizations, submitted a letter to Congress asking support for the Coronavirus Provider Protection Relief Act.

During this unprecedented national health emergency, due to COVID-19, physicians and other healthcare providers have been putting themselves at risk everyday while facing shortages of medical supplies and safety equipment, and making critical medical decisions based on changing directives and guidance.

These physicians and other health care professionals are now facing the threat of years of costly litigation due to the extraordinary circumstances. As the House and Senate continue to work on the next COVID-19 relief package, the letter urges Congress to include the targeted and limited liability protections that are in the bipartisan bill, H.R. 7059, the "Coronavirus Provider Protection Act."

The liability protections are intended to provide targeted and limited protections where health care services are provided or withheld in situations that may be beyond the control of physicians/facilities due to COVID-19. The protections extend to those who provide care in good faith during the COVID-19 public health emergency (plus a reasonable time, such as 60 days, after the emergency declaration ends), and not in situations of gross negligence or willful misconduct.

Learn more.
QUICK RESOURCE LINKS:
---
CONTENT NAVIGATION:
You can easily navigate the latest information by using the bulleted links below:
---
PHYSICIAN RESOURCE: COVID-19 Update
UPDATE APRIL 2
UPDATE MARCH 26
UPDATE MARCH 20

:
ND Dept. of Health Alert Network Distributes Infection Control Guidance and Recommendations
As a result of the ND Dept. of Health Coronavirus (COVID-19) Health Advisory Group, the ND Dept. of Health may modify guidance recommendations. This update covers the following:
Guidance for the routine use of surgical masks and gloves
Routine screening form for health care workers
Guidance for health care workers exposure
Travel guidance for health care workers

LEARN MORE.

SEE SCREENING PROTOCOL HERE.

The North Dakota Medical Association Council previously stated that it is the official position of NDMA that determining whether or not to continue with a procedure or surgery is best left between the physician and patient, keeping in mind the guidance from the Centers for Medicare and Medicaid Services (CMS).

Further clarification of that position regarding non-essential office visits, procedures and surgeries:

NDMA supports the following CDC recommendations:
Healthcare facilities and clinicians should prioritize urgent and emergency visits and procedures now and for the coming several weeks. The following actions can preserve staff, personal protective equipment, and patient care supplies; ensure staff and patient safety; and expand available hospital capacity during the COVID-19 pandemic:
Delay all elective ambulatory healthcare professional visits
Reschedule elective and non-urgent admissions
Delay inpatient and outpatient elective surgical and procedural cases
NDMA urges all hospital systems to adopt measures and procedures consistent to these guidelines.

It is the further position of NDMA that if a physician determines a visit, admission, surgery or procedure is non-essential, then hospital administration should defer to those decisions.

Learn more.
President Grants Gov. Burgum's Request for COVID-19 Major Disaster Declaration

On Wed., April 1, President Donald Trump granted Gov. Burgum's request for a major presidential disaster declaration to make federal assistance available to support North Dakota's response to the COVID-19 pandemic.

"We are deeply grateful to the President and his administration for making this assistance available to help us expand our response efforts and protect public health as the COVID-19 pandemic rapidly evolves," Burgum said. "We also appreciate the support from our state's congressional delegation and the many local, state, federal and tribal partners contributing to this unprecedented effort."

The declaration makes federal funding available to state, tribal and eligible local governments and certain private nonprofit organizations for emergency protective measures, including direct federal assistance.
NDMA Council Focuses on Coronavirus (COVID-19) Issues that Impact Patient Care

On Tuesday, March 24, the NDMA Council met and targeted high-priority issues that have the potential to impact how physicians provide care to patients. Some pressing issues being closely monitored are as follows:
Elective or "non-essential" surgery: it is the official position of NDMA that determining whether or not to continue with a procedure or surgery is best left between the physician and patient, keeping in mind the guidance from the Centers for Medicare and Medicaid Services (CMS).
Use of hydroxychloroquine, or other pharmaceuticals, as a Coronavirus (COVID-19) treatment or prophylactic measure: a committee was appointed to closely monitor progress.
Telehealth payment parity: NDMA supports payment parity to ensure that physicians are reimbursed for telehealth services at the same rate as in-person services. Medicaid and Medicare both provide payment parity. NDMA will be monitoring progress of private payer health plans.
Board of Pharmacy Expresses Concerns on Dispensing Hydroxychloroquine as COVID-19 Prevention Treatment

UPDATE ON HYDDROXYCHLOROQUINE - APRIL 2, 2020:
The North Dakota Department of Health is advising health care providers to be aware of severe illness in people who have ingested non-pharmaceutical chloroquine phosphate. This is a product sold for aquarium use.

Health care providers should report illness or death in patients due to ingestion of these products to the North Dakota Department of Health at 701.328.2378.
---
ND Dept. of Health Seeks Medical Personnel Volunteers to Potentially Staff Health Care Facilities

The North Dakota Department of Health is recruiting medical personnel to staff facilities such as, long-term care centers, hospitals, and alternate care locations, as needs arise for surging during the COVID-19 pandemic.

Deployment dates and times will be determined at the time of need. HOWEVER, AT THE TIME OF THIS RELEASE, the ND Dept. of Health is not in a state of deployment.

Physicians available and willing to be deployed must be registered in the ESAR-VHP program. Please register at the following link: http://www.ndhealth.gov/EPR/HP/PHEVR/ as soon as possible.

MOBILE MEDICAL TEAM CONCEPT:
Hospital Mobile Medical Teams, which include physicians, nurses and support personnel will be mobilized from unaffected areas of the state.

HOSPITAL MOBILE MEDICAL TEAM LICENSE & CREDENTIALS:
Team members will be registered in the ESAR-VHP system
Team members will be appropriately licensed and credentialed

MOBILE MEDICAL TEAM FUNCTION:
Team members will provide treatment in an existing medical facility (hospital, long term care, or other alternate care) in ND.
The team would provide levels of care based on mission, resources and setting.
Team members would work up to 12 hours per shift, be sustainable for up to 72 hours, and deployable for up to 14 days.
For more information, contact Kelly Nagel, ND Dept. of Health Director, Systems and Performance at 701.328.4596; or email kjnagel@nd.gov
---
Governor Burgum Issues Executive Order to Suspend Licensure Requirements for Health Professionals

On Thursday, March 19, North Dakota Gov. Doug Burgum signed an executive order suspending state requirements related to licensure of health care professionals. Health care providers receiving a licensure waiver include physicians and surgeons, nurses, pharmacists behavioral specialists and a number of other workers - who are licensed and in good standing in another state - will be able to practice as needed in North Dakota.
Physician Licensure
The temporary licensure waiver allows health care professionals in good standing in another state to practice in North Dakota, as needed, without going through the North Dakota licensure process.
Gov. Burgum stressed that during the state of public health emergency, health care professionals in good standing in states other than North Dakota, may be needed to provide treatment to citizens and residents of long term care facilities impacted by COVID-19.
Telemedicine
The executive order includes provisions for telehealth services and states (d) insurance carriers shall not subject telehealth coverage, including virtual check-ins and e-visits for established patients, to deductible, coninsurance, copayment or other cost sharing provisions. (e) no insurance carriers shall impose any specific requirements on the technologies used to deliver telehealth, cirtual check-in and e-visit services (including any limitations on audio-only or live video technologies) that are inconsistent with these requirements.

Learn more about reported North Dakota Coronavirus (COVID-19) cases here.
---
---
MARCH 26, 2020 - UPDATE:
The group is chaired by 6th district President Joan Connell, MD. This week's discussion focused on:
Modification of personal protective equipment (PPE) used in routine patient care
Modification of current recommendations for exposed healthcare workers
Question whether fatigue and myalgia should be eliminated in symptom list for Covid-19 health care workers (HCW)
Current testing strategy clarification: consensus was that health care providers should perform COVID-19 testing in patients who are suspicious of being infected, particularly if they meet the criteria.
---
MARCH 19, 2020 - UPDATE:
The Physicians Advisory Group discussed the following:
Drive up testing is being set up in various health care systems across the state
Emergency preparedness of incident commands and staff
Personal Protective Equipment (PPE) Institutions seem to be unaware of medical cache
Updated testing guidance- recommendations:

assure testing sites know they can use ONE swab for influenza and coronavirus-19
Only ONE nasopharyngeal swab is required
Criteria for testing will be expanded to include ambulatory patients with fever, cough OR fatigue/malaise
Recommending that those with ONLY sore throat and stuffy nose DO NOT get tested

Shortage of testing supplies- especially swabs
Removal from isolation

Agreed with non-testing recommendation made by CDC for people who are NOT healthcare workers
Healthcare workers still need to follow CDC criteria, which includes TWO sequential negative tests

Healthcare personnel travel restrictions and quarantine after travel

Strongly discouraged domestic and international air travel.
Those returning from level 3 countries still need to follow CDC guidelines of home quarantine for 14 days

Airborne vs. droplet precautions

Continue airborne precautions for now, but reconsider if PPE supply is getting low

Discontinuation of elective surgeries, non-urgent procedures, etc.

This decision be left to the individual health care organization
Moving forward with plans for telehealth visits with mobile immunization strategy
Resources:
ND Dept. of Health COVID-19 Testing Criteria can be viewed here.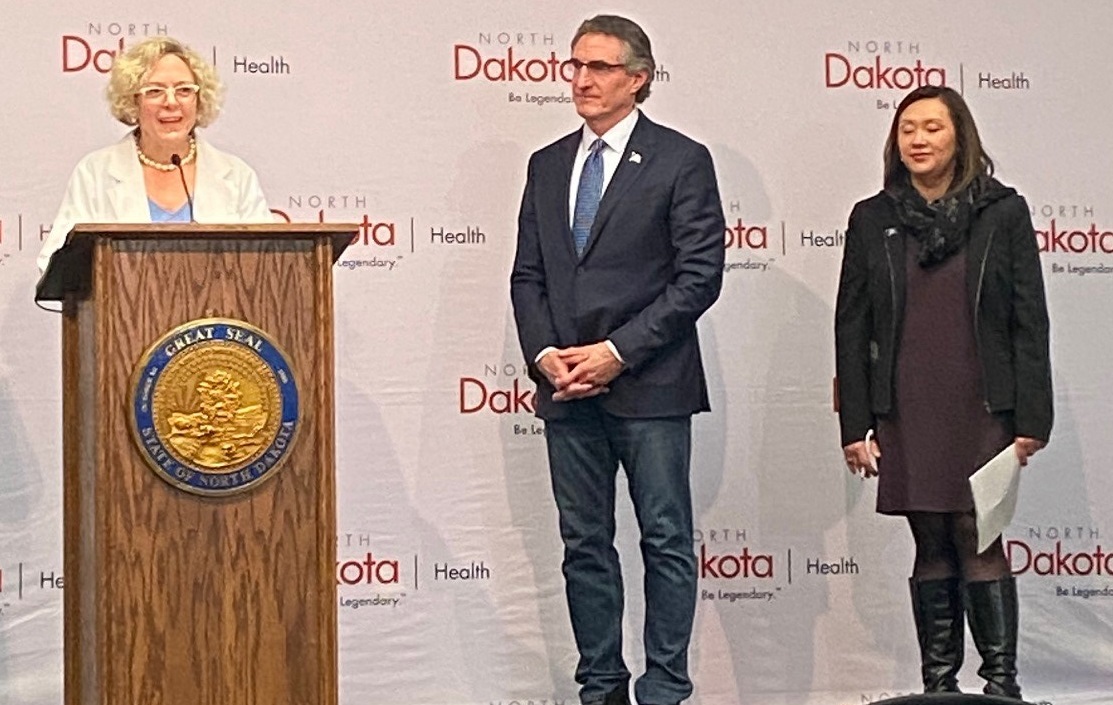 The ND Dept. of Health held many news conferences keeping North Dakotans informed of the latest coronavirus (COVID-19) updates. Shown left to right: NDMA member Joan Connell, MD (at the podium); Governor Doug Burgum; and Dept. of Health, Health Officer Mylynn Tufte.
---
Clinicians should use their judgment to determine if a patient has signs and symptoms compatible with COVID-19 and whether the patient should be tested.

Health care providers no longer need to call the NDDoH Division of Disease Control prior to testing. Providers must complete a COVID-19 Evaluation and Test Report Form and the Test Request Form (page 2). Both forms must be included with the specimen.

If the COVID-19 Evaluation and Test Report Form is not included with the specimen, that specimen may move to the bottom of the queue if specimens need to be prioritized. Health care providers should NOT refer patients to the ND Dept. of Health for medical consultation or screening to determine the need for testing.
Medicare
Effective for services starting March 6, 2020 and for the duration of the COVID-19 Public Health Emergency, Medicare will make payment for Medicare telehealth services furnished to patients in broader circumstances.

These visits are considered the same as in-person visits and are paid at the same rate as regular, in-person visits.

Starting March 6, 2020 and for the duration of the COVID-19 Public Health Emergency, Medicare will make payment for professional services furnished to beneficiaries in all areas of the country in all settings.

While they must generally travel to or be located in certain types of originating sites such as a physician's office, skilled nursing facility or hospital for the visit, effective for services starting March 6, 2020 and for the duration of the COVID-19 Public Health Emergency, Medicare will make payment for Medicare telehealth services furnished to beneficiaries in any healthcare facility and in their home.

The Medicare coinsurance and deductible would generally apply to these services. However, the HHS Office of Inspector General (OIG) is providing flexibility for healthcare providers to reduce or waive cost-sharing for telehealth visits paid by federal healthcare programs.

To the extent the 1135 waiver requires an established relationship, HHS will not conduct audits to ensure that such a prior relationship existed for claims submitted during this public health emergency.

LEARN MORE.
Medicaid
Yes, ND Medicaid covers telemedicine services, including those that originate from a member or provider's home. More information about telemedicine coverage is available in the telemedicine section of the General Information for Providers Manual.

If the member's home is used as the originating site, no originating site fee may be billed to ND Medicaid. If the visit originates from a clinic, inpatient hospital, outpatient hospital, or skilled nursing facility/nursing facility, the originating site fee may be billed to ND Medicaid.

Services not covered via telemedicine: therapies provided in a group setting, store and forward, targeted case management for high risk pregnant women and infants and targeted case management for individuals in need of long-term care services. Providers should use codes as noted in LEARN MORE.

LEARN MORE.
US Department of Health and Human Services
Notification of Enforcement Discretion for telehealth remote communications during the COVID-19 nationwide public health emergency.

OCR will exercise its enforcement discretion and will not impose penalties for noncompliance with the regulatory requirements under the HIPAA Rules against covered health care providers in connection with the good faith provision of telehealth during the COVID-19 nationwide public health emergency. This notification is effective immediately.

LEARN MORE.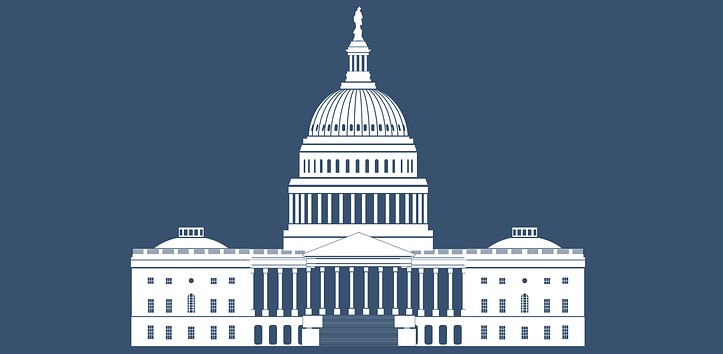 A Congressional Update:

AMA, AHA and ANA Appeal to Congress for $1 Billion in Coronavirus Emergency Funding Response
In a letter to House and Senate leaders, the American Hospital Association, American Medical Association and American Nurses Association requested the next economic stimulus package include funding "to ensure that hospitals, health systems, physicians and nurses are viable and directly supported for preparedness and response."

The healthcare provider groups said they're committed to working with all stakeholders to respond to COVID-19, the illness caused by the novel coronavirus.

LEARN MORE.
House Passes Law
On March 14, by a vote of 363-40, the U.S. House of Representatives approved a second, bipartisan Coronavirus aid package, the Families First Coronavirus Response Act (H.R. 6201). The U.S. Senate is expected to consider the House-passed package, with potential amendments, the week of March 16.
Changes to Temporary Increase in Federal Medical Assistance Percentages (FMAP) for Medicaid; Increased Allotments for Territories. The amendment would temporarily increase federal Medicaid funds to states and territories by increasing the FMAP percentage for each state and territory by 6.2%, with some changes to the state maintenance of effort requirements to ensure greater coverage. As in the previous language, the period for the increase would begin in the calendar quarter of the emergency period and end in the quarter when the emergency period ends. States would be required to meet certain conditions to receive the FMAP increase, including:
Maintaining eligibility requirements no more restrictive than the eligibility standards and methodologies in place as of Jan. 1, 2020;
Maintaining premium amounts that do not exceed those in place as of Jan. 1, 2020; and
Providing coverage without cost-sharing for COVID-19 testing and testing-related services during the emergency period.
The amendment would modify more restrictive language in the previous version to provide coverage for individuals (both those currently enrolled as of the date of enactment, and those who enroll during the emergency) until the emergency period is lifted. Coverage during this period would end only if the individual terminates coverage or is no longer a resident of the state. Eligibility reviews for income and other criteria would not apply during this emergency period.

LEARN MORE.
Medicaid Coverage for the Uninsured
The amendment would create a new, optional Medicaid eligibility category for uninsured individuals. Uninsured individuals — defined as not eligible for Medicaid and not enrolled in group, individual or public coverage — could be enrolled in Medicaid and receive COVID-19 testing services. This is limited to diagnostic services, and does not include treatment or preventive care. This coverage is eligible for a 100% FMAP, including administrative expenses provided the state can demonstrate administrative expenses were attributable to this population. The amendment removes language from the previous version regarding Section 1135 waiver authority and Medicaid coverage.

Given the nature of the COVID-19 outbreak, seeking in-person medical care may lead to further spreading of the virus. BCBSND has encouraged the use of telehealth. As part of BCBSND's commitment, BCBSND has further expanded telehealth services to all products effective March 16, 2020. A significant majority of products have already instituted this expanded set of telehealth services, but to reduce confusion and create consistency all products will have the expanded telehealth benefit during the COVID-19 pandemic.

UPDATE 3-19-2020
Blue Cross Blue Shield Association
President and CEO, Scott Serota issued the following statement announcing full coverage of telehealth services for members.
"The safety and security of our members – and of all Americans – remains our paramount priority during these unprecedented times. On Thursday, March 19, Blue Cross and Blue Shield (BCBS) companies announced a new policy regarding telehealth services that ensures members have swift access to the care needed to get and stay healthy – at no cost to them.
All 36 independently-operated BCBS companies and the Blue Cross and Blue Shield Federal Employee Program® (FEP®) are expanding coverage for telehealth services for the next 90 days. The expanded coverage includes waiving cost-sharing for telehealth services for fully-insured members and applies to in network telehealth providers who are providing appropriate medical services.
The BCBS Association encourages you to contact your in-state BCBS plan for a full understanding of breadth of services since coverage may vary.